Digital Strategy: What is it & Why you need one?
As technology is advancing and the online world is constantly growing, a digital strategy is essential. Making sure that you have a digital strategy should be one of the first steps you take when putting your brand online. But, sometimes, a digital strategy isn't always at the top of the to-do lists, or even on them at all and that is where the problem lies.
What is Digital Strategy?
Digital marketing has worked its way into the media and marketing scene in the last decade. It is a place where you can grow recognition for your company. But, is digital marketing something which a business can just throw themselves into and hope for the best? Absolutely not. A digital strategy is when technology is used to improve a businesses performance. It is the process of planning, applying and exceeding, in terms of growing a business.
Did you know that 49% of businesses are using digital marketing but without a strategy? Crazy right! This is a huge risk, especially if they are paying for various tools and other things to try and give them great content.
Most businesses are using their digital strategy to expand their reach, bring new opportunities and find new/more audiences. But, unfortunately, it is not as easy as creating an Instagram or Facebook page to promote your business, anyone could do that. This is where a digital strategy comes into play. Most companies don't have enough time, a good enough understanding or even the staff with the required skills to control and grow the digital aspects of the company. So, this is where companies like us, Hive Digital Media are perfect.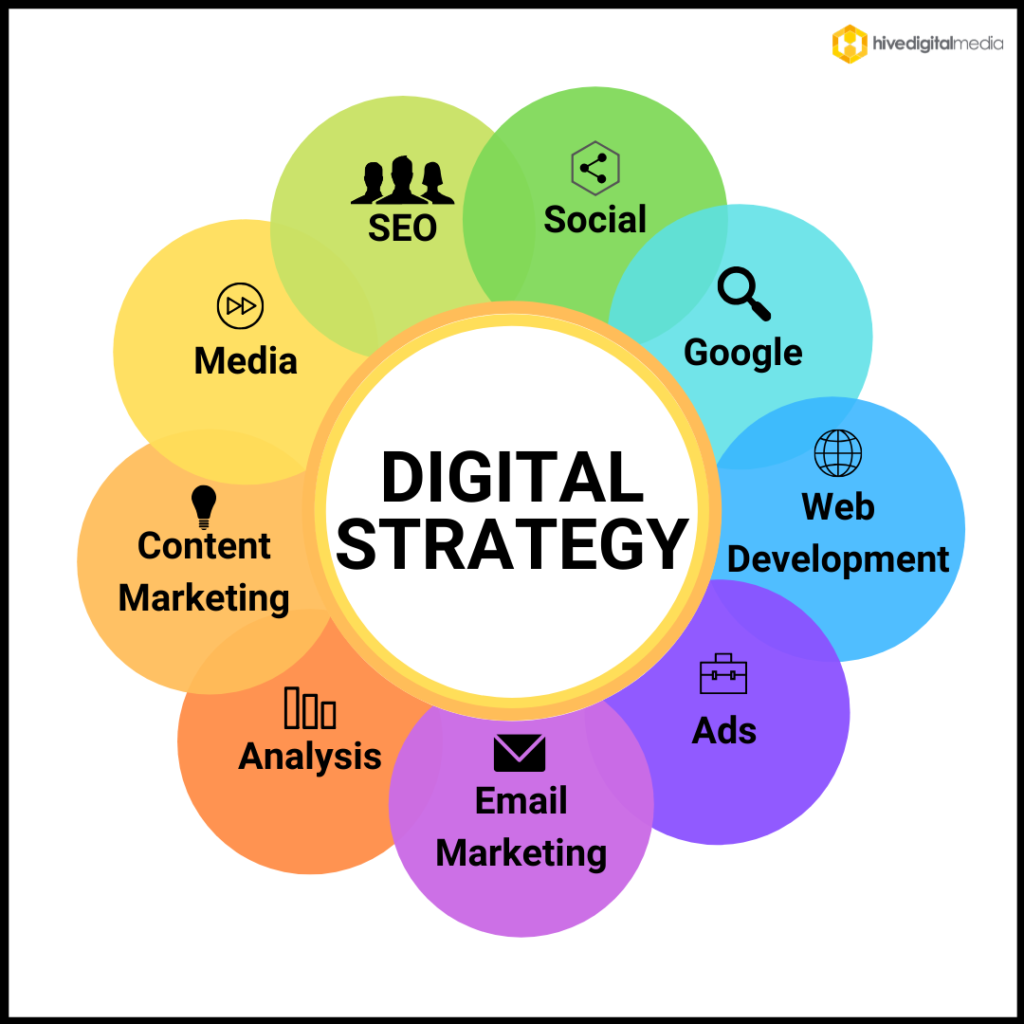 Why Do You Need a Digital Strategy?
When dedicating time, money and other resources to important aspects within your company, every penny counts. Knowing where and how each penny in your digital marketing budget is being spent is something which is essential. Whether you're a small or large company, money is money and nobody wants it being 'lost' or going to waste.
71% of companies plan to increase their digital marketing budgets this year. As well as this, according to iScoop, 78% of businesses now have dedicated social media teams. If you are in a popular industry, whether it be fashion, law or even industries more relevant like media, it is likely you will want to keep up to date with the new trends and in stay competition with your competitors. The last thing you want is to fall behind within your industry and then find it difficult to bring a comeback.
A digital strategy is something which you should stick to when doing anything within the company. According to Cyber Security Ventures, the number of humans on the internet will triple from 2015 to 2022 and hit 6 billion. This just proves that the use of the internet is rapidly increasing constantly, meaning the amount of business promoted using the internet will also increase.
Why Should I Choose a Digital Strategy?
A digital strategy isn't something which can be produced and used in an hour or a day. It is something which has to be properly planned and thought-out by specialists. But, not every business has employee's who specialise in that industry, meaning you won't have the best plan. This is where digital agencies come into the picture. Instead of going out an hiring a whole digital marketing team, you can get an agency to do all the work for you. Read more about who we are and what we do (our services) to get more of an idea into agencies.
If you would like to talk to us on how we can turn your content into leads and revenue, then just hit the 'Let's Talk' button below.